About Aston Black
Superior Craftsmanship, Quality Design and Exceptional Service
"I can't say enough about the entire Aston Black team… we felt like they were family!
They were clean, courteous, and always went the extra mile. And they always had time to answer questions or explain how something was done."
Susan P.  Broomall, PA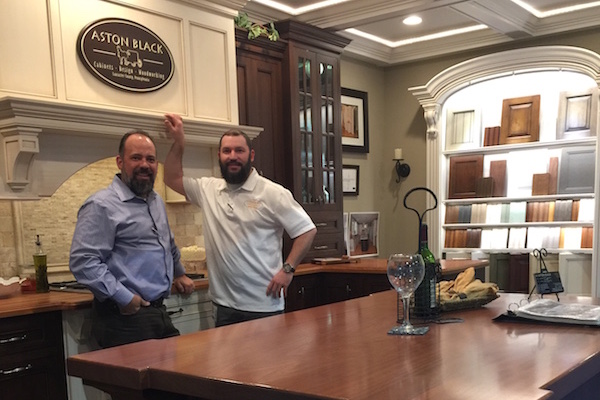 The Aston Black Team is led by founder Mark A. Black and his operating partner, Paul Everwine.
Mark and Paul will work with you, every step of the way, ensuring that your project reaches completion exactly as you envisioned.  From beginning to end, Mark and Paul will continue to exceed your expectations!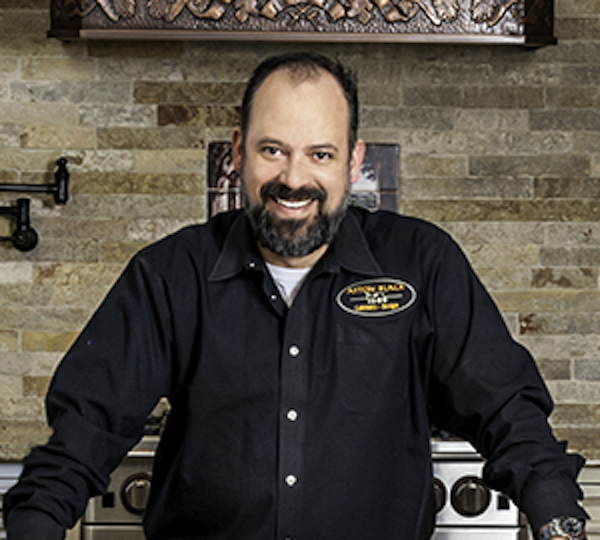 Mark A. Black
Founder and Owner/Operator
Mark Black began working in the home remodeling industry over 13 years ago in Louisiana, and quickly discovered his admiration for custom-built cabinetry and his talent for home remodeling design. 
After moving to Lancaster, PA, Mark decided to build his own remodeling company that focused on kitchen cabinet refacing.  Shortly thereafter, he created relationships with local Amish craftsmen and began to expand his business into a full-service design and remodeling company with a focus on custom woodwork.  Over the years, Mark has built his solid reputation on excellent customer service along with the highest quality work in the home remodeling industry. 
In his spare time, Mark enjoys spending time with his wife Mandy and three children, Paris, Ethan & Joshua.  He enjoys attending church on the weekends, and he attributes his success to his faith in Yahweh and to his loving family. Mark also enjoys spending time outdoors, enjoying activities like fishing, hunting, snow skiing and golf, to name a few.  He loves eating and cooking cajun food and can even make a killer gumbo!
Paul Everwine
Project Consultant
Paul Everwine is passionate about ensuring his customers' remodeling project is a positive experience from the beginning to the end. With a strong background in management and logistics, Paul treats each remodeling project as unique as the design and the homeowner.
Paul is confident in knowing that his clients will greatly benefit from working with the team at Aston Black, so he takes the time to work one-on-one with each client to ensure they are clear about Aston Black's personalized approach to custom remodeling.  Paul is here to assist our customers in every step of the remodeling process.  From the initial in-home consultation to the planning and implementation to the final walk-through – you can relax knowing you are in good hands.
Paul was self-employed for 17 years, and has always enjoyed seeing his ideas come to fruition. This mindset is what makes him so successful as a consultant at Aston Black.  When he's not dreaming up new projects, he is relaxing on the golf course, listening to his favorite tunes or simply enjoying some downtime with his wife and two daughters. 
What our clients have to say:
"The craftsmanship is excellent, the design is perfect, the project came in on time and on budget with no last minute surprises. We highly recommend Aston Black."
Cathy S. ~ West Chester, PA
"Working with Aston Black exceeded our expectations! We would highly recommend them for anyone who is in the market. Aston Black is second to none!"
Nancy H. ~  Chester Springs, PA
"All in all I could not be happier with my experience with Aston Black. I now have my dream kitchen and it is a "jewel". I love waking up everyday to it! I would recommend Aston Black to anyone looking for a great renovation experience."
Caryn A. ~ Media, PA
"We cannot be more satisfied with Aston Black's work. We got exactly what we were looking for plus professionalism. My wife and I are blessed to have found Aston Black! We would highly recommend hiring Aston Black if you are looking for a remodel or a new build."
 Sam and Vivian T. ~ Vineland, N.J.
"I can't say enough about the entire Aston Black team. After 3 months of planning and 3 of construction, we felt like they were family. They were clean, courteous, and always went the extra mile. And they always had time to answer questions or explain how something was done. "
Susan P. ~ Broomall, PA
"Aston Black did a total redo of our kitchen. Their quality of workmanship, materials and people were first-class. They took the time to listen to our wants and came up with great suggestions. We enjoyed coming home every day and talking with them about the progress they made. We highly recommend them."
Bob C. ~ Downington, PA
"Aston Black provided an excellent product. They are very professional. We needed our project done in a timely manner and they came through. They did back to back kitchens for us and I would recommend Aston Black any day of the week."
Jim M. ~ Lancaster, PA
"Their measurements were precise and their installation was meticulous. A nice bonus was that their cleanup was immaculate."
Sheryl D. ~ Lititz, PA
"We were able to see sample doors in all the colors/finishes. We were really impressed with the quality and workmanship and the manager who took time to give us a personal tour."
Susan P. ~ Broomall, PA
"The crew was knowledgeable, friendly, on time and clean. We liked and trusted the foreman so much we had him stay in our home with his wife to dogsit when we went on vacation. Re-doing a kitchen is long, messy, inconvenient job. Aston Black made it bearable and produced a result that was better than even we imagined."
Chris W. ~ North Wales, PA
"I feel sure that they will always be there to support us. And when it comes time for our next big project they will be the only company we call. I would be happy to speak to anyone considering Aston Black for a remodeling project. I am also always thrilled to show off my fabulous new kitchen!"
Susan P. ~ Broomall,PA
"We used Aston Black three years ago for our kitchen remodel and were so satisfied we did not hesitate to use them again for our recent master bath and laundry room remodels."
Jill and Brian K. ~ Bryn Mawr, PA
"Aston Black was professional from beginning to end. They made many trips to explain to us the design, colors, and special moldings. The whole media room looks spectacular now."
Sanjeev G. ~ Malvern, PA
"I have an appliance garage hidden behind a lift up door that looks like 12 drawers! There is a stained glass door on my corner cabinet that I designed and Aston Black worked with the craftswoman to be sure it fit the door perfectly! Oh and the 2 foot bamboo cutting board and roll out pantry are fabulous! There are so many wonderful and functional features that I could go on and on!"
Susan P. ~ Broomall, PA
Aston Black's Promise
To be our customers' first choice for all their fine cabinetry and remodeling needs by providing world-class service and value delivered by our team of professionals.
Values
Aston Black was built upon a foundation of integrity and honesty, and it is on that basis that we will continuously strive to improve and grow.  We believe in putting words into actions, and we maintain that those actions should always provide exemplary results.  We strive to constantly examine our operations through continued awareness and customer feedback.
Company
Aston Black consists of a team of passionate, career-oriented staff who uphold a common bond and a high-level of synergy.  We believe in maintaining a constant flow of communication, sharing personal visions and aspirations. Together, we have developed a dynamic work environment that has lead to the creation of unique approaches in our sales and operational processes.  These developments have brought us closer to identifying with our clients and their needs.
Operations
Aston Black has implemented a driven workflow process that is supported by critical path management, allowing us to add value to the actual work being accomplished and to ensure our progress is on par with the actual dollar being invested. New technology, combined with a refined final design approach, allows the client to see their concept become a reality using our state-of-the-art 3D rendering tools and innovative design techniques.
Brand
Aston Black strives to create a brand that is representative of Lancaster County's reputation for having high-quality craftsmanship and design. We aim to exude chivalry and manners, to maintain a high-level of discipline and to always be dedicated to superior products and service.
Mark A Black, Founder
"I was inspired to start this business because I love to work with my hands, and I have always had a passion for quality woodwork.  From back in the days when I lived in Louisiana and would do woodworking projects as a hobby on weekends to when I started Nu Face Remodeling here in Lancaster, it was always a thrill to put a smile on people's faces when I transformed their old kitchen or bathroom into a masterpiece that had them grinning like the Cheshire cat in Alice in Wonderland."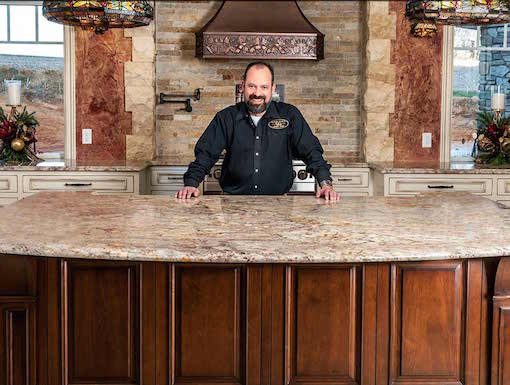 Aston Black is proud to be members of the following organizations:
Houzz is an online community, forum and platform for generating and sharing inspiration about architecture, interior design and decorating, landscape design and home improvement.  Aston Black has consistently been rated at the highest level for client satisfaction by the Houzz community.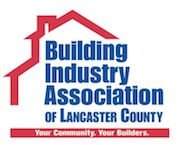 The BIA of Lancaster County says of its members, "BIA members have confidence in their skills and pride in their reputations because they must stand shoulder-to-shoulder with their peers."  Aston Black is a proud member of the BIA of Lancaster County.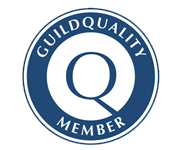 Guild Quality provides customer satisfaction surveys for building professionals.  Customer feedback is available for all users to see, and is organized in a map of work completed.  Aston Black is extremely proud of the high level of customer response we receive through Guild Quality.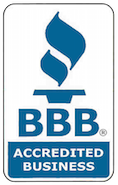 The Better Business Bureau is a non-profit organization collecting and providing business reviews for consumers.  Aston Black has consistently received an A-rating from the BBB.

Residential Warranty Company
Residential Warranty Company is one of the Nation's oldest and most trusted providers of home warranties.  RWC examines builders and contractors thoroughly before granting membership into their programs.
This value-added feature for homeowners provides security, resale value and an important measure of piece of mind.
"The craftsmanship is excellent, the design is perfect, the project came in on time and on budget with no last minute surprises. We highly recommend Aston Black."
Cathy S.  West Chester, PA