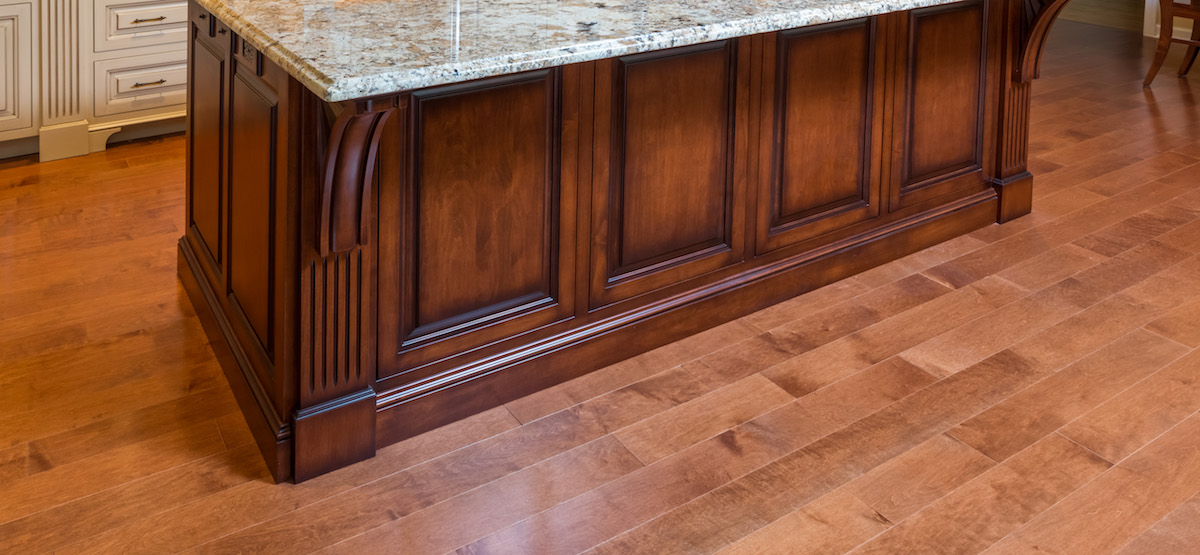 Choosing Kitchen Flooring: Hardwood Versus Tile
Choosing your kitchen flooring material is not an easy decision.
I often have clients ask me which flooring is best for their particular kitchen design.  The short answer is always the same – it's completely up to you! There are a lot of considerations to make, and ultimately the kitchen flooring you choose will depend on your lifestyle, design preference and budget.
For the past few years, the trend for kitchen flooring has typically leaned towards hardwood. It adds value to the home and creates a beautiful look with an open-floor plan. However, with the recent emergence of new tile selections, we are seeing more designers go back to choosing tile flooring for their kitchens.
Here is a comparison of two of the most popular kitchen flooring materials:  Hardwood versus Tile
Hardwood
Hardwood flooring is an excellent option for kitchens, especially if you have an open floor plan.  Hardwood floors create a classic design that will add value to your home for years to come. 
Hardwood Floors Pros and Cons
Pros:
Hardwood flooring provides a warm and natural appearance.

Hardwood is comfortable to walk on, and can stay warmer in the winter.

Hardwood floors are typically less expensive to install, because they do not require as much work to the subfloors.
Hardwood is easy to maintain and easy to clean.
Cons:
Hardwood flooring is not completely waterproof.  (It is water-resistant, but you can't let liquids remain on the surface for too long.)
You will need to refinish your hardwood floors at some point.  They can be sanded and stained, but you then have the option to choose a different color.
Tile
Tile flooring is perfect for the homeowner that favors durability and is looking for a wide variety of style options. When the tiles are created, they are fired at an extremely high temperature, making them resistant to water and stains.
Tile Flooring Pros and Cons
Pros:
Tile flooring is waterproof and stain resistant, making it an great for kitchens and bathrooms.  

There is a wide variety of styles and designs available with tile flooring. You can choose a pattern and color that matches your home. 

Tile floors are very durable and will last a very long time. In fact, tile is so strong that it is often used outside for patios and porches.

 
Cons:
Tile floors can be cooler in the winter.  However, you do have the option of installing heat underneath the tiles to keep them warm when needed. 

The grout between the tiles can get stained over time, and it could eventually chip away.
If you have trouble deciding between the two, I typically suggest considering the wood look tile that is on the market. You get the best of both worlds – the comfortable, warm appearance of hardwood with the durability of tile.  Whatever you choose, be sure to work closely with your designer to make sure it is the best choice for your kitchen layout and your design budget.