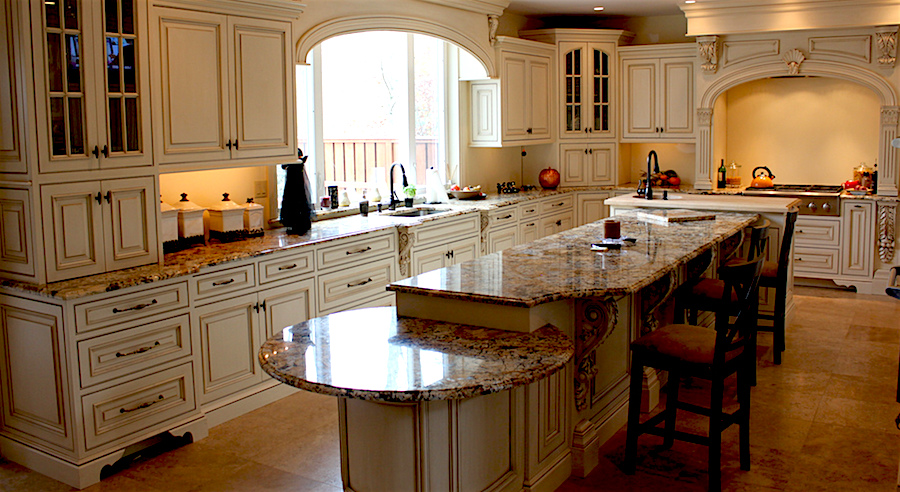 A Variety of Treatments for Finishing Cabinet Ends
Choosing the perfect treatment for finishing cabinet ends
When it comes to installing your kitchen cabinets, many customers do not realize they have several choices for finishing the cabinet's exposed ends and sides.   The type of finished cabinet treatment you choose for your kitchen cabinet ends can make a big impact in the appearance of your newly remodeled kitchen.
Here are some popular treatments for finishing the exposed ends of kitchen cabinets:
Finished End:  A finished end simply means that the exposed end of your cabinet will be finished to match the rest of your cabinetry.  If you have a framed cabinet, you will see a slight ear from the face frame.
Flush Finished End: A flushed finished end is similar to a finished end, but the ear will not show because a panel is used to match up to the frame of the cabinet.
Door Style End:  With a door style end, the exposed end of your cabinet will have an actual door applied to the end.
Wainscot End:  A wainscot end treatment simply gives the appearance of a door as the side of the cabinet, rather than actually installing a door on top.
Beaded End: A beaded panel end, commonly called beadboard, is a panel that has the appearance of rows of interlocking pieces of wood through a tongue-and-groove pattern.
Decorative cabinet moldings can add a touch of elegance to your kitchen
Another way to add detail to your cabinetry is by adding decorative cabinet molding.  A two-piece crown molding is typically used in an Aston Black kitchen installation. It produces a polished, finished look for your cabinetry.
An under-cabinet crown or light rail molding can also used to add a decorative element to the bottom of the cabinet.  It also serves the useful purpose of hiding the under cabinet lighting and any electrical outlet strips that might be installed.
Remember, a great design takes all the details into consideration.  Work with someone who is going to take the extra steps to make sure your completed cabinetry project is perfect at every detail.