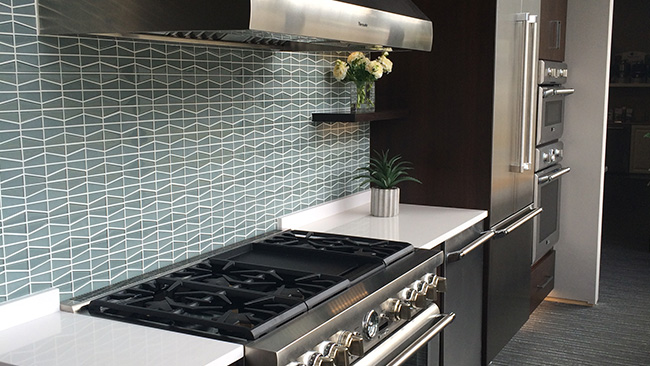 Kitchen Appliances: Answers from the Experts
Choosing new kitchen appliances can be a major decision in any kitchen remodeling project.  There are so many new trends in appliance technology and design that it can be a little overwhelming to know what makes the most sense for your kitchen needs.
Queen Appliance is a wholesale company that is open to the public.  They use their immense buying power to offer customers incredible discounts on major appliances.  Because of this, Aston Black regularly sends our customers to Queen Appliance.  Recently, Aston Black built a custom cabinetry display in Queen Appliance to help all of the customers better envision their appliances in a finished custom kitchen. 
I recently sat down with Eric Solof, General Manger of Queen Appliance.  I asked him many of the questions I hear from working with Aston Black customers when discussing their kitchen remodels and their appliance options:
What are current trends in kitchen appliances?
There are many cutting-edge improvements in the appliance industry that are quickly trending upwards. One in particular involves cooking with steam. Steam ovens combine your typical convection elements and fan with steam to provide exceptional results. Steam is the healthiest way to cook, since it preserves nutrients and eliminates the need for unhealthy fats and oils. It cooks more quickly, retains moisture like you would never believe, and still keeps foods crisp on the outside. Steam can be used to cook everything from vegetables to sirloin steak to a 14-pound turkey to crème brûlée to even reheating leftover pizza to come out better than it was originally. Not to mention, steam ovens allow for multiple dishes to be cooked in the same oven cavity at the same time with no flavor transfer!
What appliance finishes do you find are most popular?
To start, stainless steel is currently (and probably always will be) the most popular and prolific color/finish for appliances. Many ultra-premium brands only offer stainless steel as an option, as opposed to white or black. With that said, there are a few alternatives gaining traction. The first worth mentioning is "black stainless". Black stainless offers a bold style combined with better fingerprint resistance and is available in the KitchenAid, LG, and Samsung brands. Similarly, GE has found a lot of success with their "slate" finish, offering even better fingerprint resistance and a matte, stone-inspired appearance across a huge selection of appliances. Lastly, custom colored products allow for a truly unique expression of style and can be color-matched to pair with your exact kitchen decor. For example, you will often see custom colored knobs or door panels on professional-style ranges and wall ovens to add a pop of color in brands such as BlueStar.
People are often reluctant to go counter-depth with their refrigerator because of space. Are there any options to get around this, and how much space are they really losing by going counter-depth?
Counter-depth allows for a more built-in look for a fraction of the cost of a true built-in refrigerator, but just like built-in refrigerators they come with the price of losing storage capacity. On average, the refrigerator depth is reduced by about 5 inches, and in turn loses between 5 to 10 cubic feet of useable space. The largest standard depth refrigerator in the world measures at 34 cubic feet compared to 24 cubic feet in the largest counter-depth model of the same 36″ width.
The good news is that there are many solutions to this dilemma. To start, the end-user should really consider if they require a lot of freezer storage in the kitchen, since most families use the freezer only 25% of the time. Often times, a second freezer is kept in the basement or garage. This opens up room for one of the most popular refrigeration trends in the industry. Samsung's 4-Door Flex refrigerators offer a convertible compartment on the bottom right-hand side, which can switch from a standard freezer to a refrigerator on the fly. Therefore, if you utilize the convertible zone for refrigeration space instead, it allows for 22 cubic feet of refrigeration. That's more refrigeration space than most standard depth refrigerators (you just may have to supplement your freezer space elsewhere in the house)!
Another solution is to utilize your available width. Some kitchens cannot have a refrigerator sticking out into the walkway, but have plenty of width to work with. Built-In refrigerators can expand outward to 48″ wide or even 72″ with a separate refrigerator column and freezer column (consider Miele). If we're looking for a more aggressively priced solution, consider the counter-depth, freestanding all-refrigerator and all-freezer by Electrolux which can be designed to look just like a built-in refrigerator with a standard metal trim kit. In addition, we are seeing a lot of interest in modular refrigeration. This means under-counter refrigerators designed for specific functions. U-Line, for example, offers under-counter refrigerators, freezers, beverage centers, and even refrigerated pantry storage scientifically engineered to preserve food better than your typical pantry cabinet. By storing some of your food under the counter, you can sacrifice depth in your main refrigerator. Lastly, it's not unheard of to recess a standard depth refrigerator into the wall behind it if your design allows for it.
I get asked about induction cook tops pretty often. What is your opinion on them?
Induction technology, compared to gas or radiant electric burners, absolutely combines the best of both worlds. Many people think it's new technology and are scared to jump on the bandwagon, but it's actually been used successfully for decades and the price points continue to fall. If you've ever considered switching from electric to gas, or are disappointed with your traditional electric appliance, or just enjoy seeing amazing technology in action, you should really see an induction cooking demo. We have multiple cooktops live in our showroom and love to show them off! Induction uses magnetic technology to give you phenomenal raw power, instant control, incredible efficiency, drastically improved safety, and unparalleled clean-ability. The only complaint I ever hear about induction cooking is the requirement for "special" cookware. The good news is, a lot of your existing cookware might already work well (it just has to have enough iron content for a magnet to stick to the bottom) and every major cookware manufacturer makes induction-ready pots and pans at entry-level price points.
Anything new that we should be looking forward to?
Technology in kitchen appliances is evolving fast! New innovations now allow for remote controlling your oven to get the pre-heating started or checking the food temperature during the cooking process all from the comfort of your couch or even before you get home. Your ventilation can turn on automatically with your cooktop. Can you imagine being able to remotely see inside the refrigerator while at the grocery store to determine if you're out of milk? Now you can! All sorts of smart-home functionality is being released for kitchen appliances, and we can look forward to improvements from here.