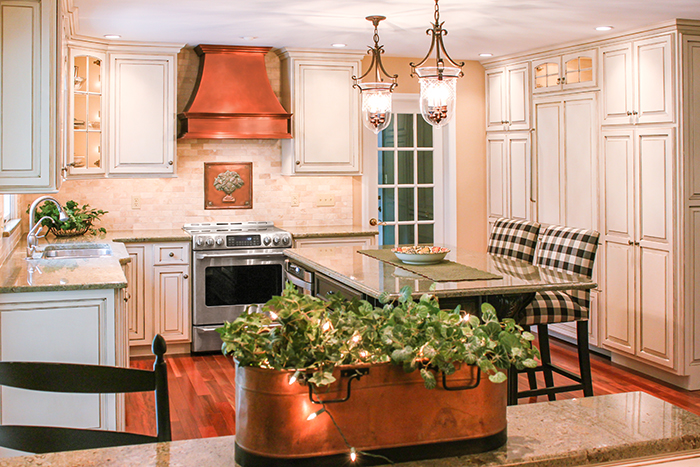 Considerations When Designing Your Dream Kitchen
The kitchen is indeed one of the most important spaces in the home. From a design stand point, It is imperative that this space is not only aesthetically pleasing, but is a functional yet efficient space where family, friends, and pets (yes pets!) can gather. The challenge when designing a kitchen is not only making it a beautiful space for family and entertaining, but making it a working space as well. In laying out and planning your dream space there are many kitchen design considerations that you should take into account.
Gather Inspiration
Getting inspired is perhaps one of the most exciting and fun aspects when it comes to planning your new space. Pinterest, Houzz, ArchDaily, Instagram, Kitchens.com, Google and even the magazine isle at the grocery store are great resources to help get your creative juices flowing. Start a folder on your desktop where you can save pictures of spaces and design details that are beautiful to you. If you start to feel overwhelmed with options, try focusing on one aspect of a design precedent that speaks to you. For example maybe you really like a particular style of backsplash, or perhaps you really prefer the look of cork floors versus the traditional hardwood. Try starting with one favorite aspect and together you and your designer can begin building your design and creating selections based off of that one detail. By honing in on your own personal aesthetic, you will be one step closer to achieving your dream kitchen.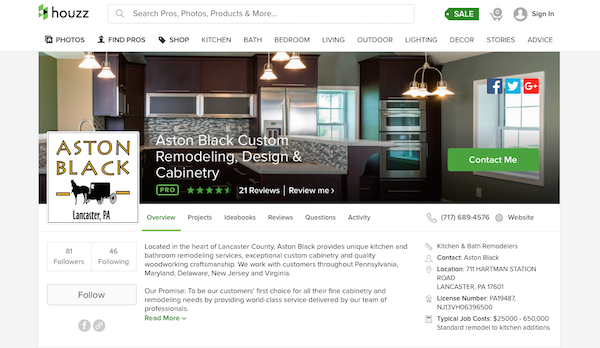 Think Ahead
One of the biggest concerns that clients have when redesigning a kitchen is maintaining or increasing their existing storage space. A personalized storage plan is beneficial when creating an effective design for a kitchen. Before you meet with your designer, get organized by creating a comprehensive list of the items that you regularly store in your kitchen. By taking account for your kitchenwares you may realize that you need more drawers than cabinets or vice versa! By acknowledging your specific spatial needs, you and your designer will be better equipped when making design decisions for your new kitchen.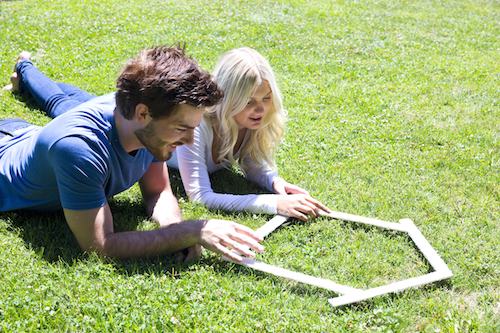 The Work Triangle
The work triangle, as defined by the NKBA (National Kitchen and Bath Association) is an imaginary straight line drawn from the center of the sink, to the center of the cooktop to the center of the refrigerator and back to the sink. The primary goal of the work triangle is to maintain ease of access and functionality while performing tasks within your kitchen. By adhering to these basic guidelines when laying out your kitchen, the functionality of your space will be greatly increased.
The sum of the work triangle's three sides should not exceed 26 feet and each leg should measure between 4 and 9 feet

The work triangle should not cut through an island or peninsula by more than 12 inches.

If the kitchen has only one sink, it should be placed between or across from the cooking surface, preparation area, or refrigerator

No major traffic patterns should cross through the triangle.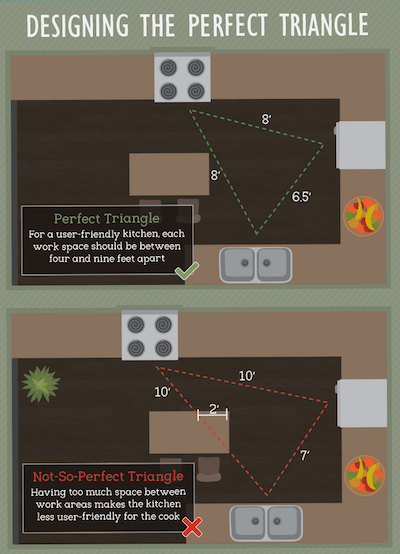 Open Shelving and Glass Doors
Open shelving and glass doors can be beautiful elements within a kitchen design. However, there are a few things to take into account when considering either of these. Open shelving in place of upper cabinets, is a modern look, but you have to be prepared to live with the reality of their beauty. Open shelving becomes a number one hiding place for dust bunnies, if you choose to go with this option be prepared to give your feather duster lots of exercise! Another aspect to take into consideration with open shelving, is that everything on them will always be on display. Due to this, keeping your shelves organized and staged at all times will be a must if you intend on keeping the look of your kitchen maintained. Glass doors are very similar in caliber to open shelving in the sense that they display everything stored inside of them. Using glass doors in selective spaces within your kitchen design is appropriate when intending to display items such as fine china or decorative pieces.
Whether you are embarking on a kitchen remodeling project or a new build design project it is important to remember that in the real world, no job runs perfectly. With that being said, the process of designing and constructing your kitchen is an exciting experience and it should be treated as one.
The most important thing to know when designing your dream kitchen is that the finished product will be well worth the wait!