The Story of Aston Black
A solid background in woodworking, a passion for superior quality and a desire to be successful.
Mark A Black, Founder
"I was inspired to start this business because I love to work with my hands, and I have always had a passion for quality woodwork.  From back in the days when I lived in Louisiana and would do woodworking projects as a hobby on weekends to when I started Nu Face Remodeling here in Lancaster, it was always a thrill to put a smile on people's faces when I transformed their old kitchen or bathroom into a masterpiece that had them grinning like the Cheshire cat in Alice in Wonderland."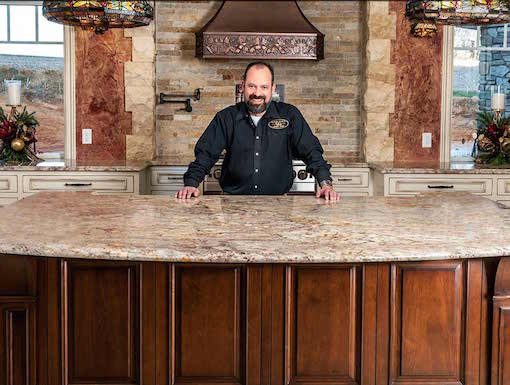 A history of home remodeling based on superior customer service and quality craftsmanship.
In 2003, Mark Aston Black was living in Louisiana with his pregnant wife and 2-year-old child.  He had been serving in the ministry for over 13 years, and was in the midst of a sabbatical.  Searching for work, he began assisting his good friend with home remodeling and cabinetry, and he soon discovered he had a true talent and passion for woodworking and design.  Refacing cabinets was a beautiful and affordable way to give a kitchen an entirely new look in a short amount of time, and he felt an immense amount of satisfaction from seeing the completed install.  Mark began to put his energy into side projects in his spare time – refacing cabinets, installing crown molding, and even building bookcases. He found enjoyment working on these projects from start-to-finish, and he knew he wanted to continue to build a career in the home remodeling industry.

With a second child on the way, Mark and his family decided to relocate to Lancaster, Pennsylvania to be closer to relatives.  He continued to do cabinet refacing with a larger company, but had the desire to build his own customer base and branch out into other areas of home construction.  So, in 2004, he took a risk and began his own remodeling business called Nu Face Remodeling.   Initially working out of his small apartment in Lancaster, he quickly acquired a significant customer base and moved into a bigger space in Leola, Pennsylvania.
After the first few years, Mark had expanded his business into a full service kitchen design and remodeling company.  He had also began to work with local Amish craftsmen to create beautiful cabinets and custom wood furniture for his customers.  The Amish woodworkers had strong work ethics that Mark could rely on. With a reputation for their superior craftsmanship, their dedication to the community and their faith, customers could feel confident they were getting a superior product they could depend on as well.
Mark wanted to ensure his clients understood the full spectrum of construction that his company was able to provide – full kitchen remodeling, custom-built cabinets, superior woodworking, and a variety of other designs and installation services. With growth comes change, so he decided to change the name of his company to reflect the expansion.  In 2007, the company Aston Black was born. 
A year later, Aston Black moved to its current location in a historic 1800's farmhouse in the heart of Lancaster County. For the past 13 years, Mark has continued to grow his business through his commitment to high-quality craftsmanship and genuine customer service.
Mark attributes his success to "lots of hard work, my strong faith in Yahweh, and my amazing wife, Mandy, who has supported me through all the crazy things that starting and owning a business could throw at you".  He also gives credit to his wonderful children, Paris, Ethan and Joshua, who tackle him with excitement as he walks through the door every night.  Mark says "I can't wait to see my family every night, and I do what I do for my children." 
"Aston Black provided an excellent product. They are very professional.  We needed our project done in a timely manner and they came through. They did back to back kitchens for us and I would recommend Aston Black any day of the week."
Jim M.  Lancaster, PA