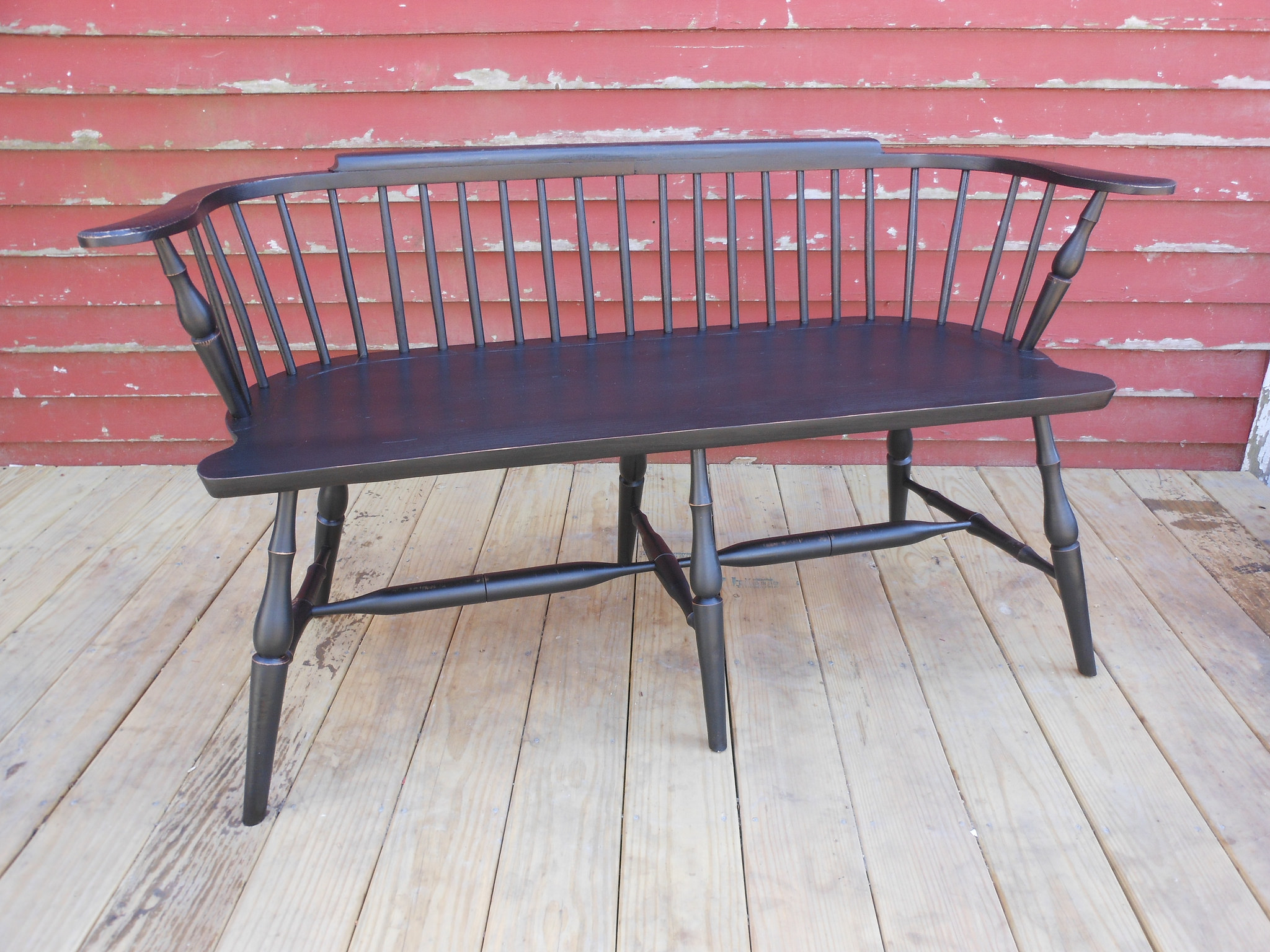 Shop Talk. Pitfalls for the Novice.
Shop Talk. Pitfalls for the Novice.
The kitchen has been said to be "the heart of the home". Without it, the rest of the home is really insufficient. Designing and establishing a kitchen to one's liking is the first step.  Finding and placing furniture to match the design can be a time consuming task. As a furniture maker, I have worked with many clients while working through this process. Many select to go with a more country or antique style, as opposed to a more modern look. The "hunt" for chairs and or tables can be an adventure, as clients may find themselves rummaging through antique stores or going to flea markets instead of buying from a modern furniture provider. During this time, I have often repaired many pieces of furniture, where a story has been told about the love for the chair, and "I just had to have it, for I thought it would look beautiful in my kitchen". There is nothing more embarrassing than having a house guest during a get-together hit the ground for the legs of the chair of which they were setting collapsed. I have personally experienced this. The chair may be beautiful, just not worthy to set in. That being said, I thought it might be a swell topic to discuss picking chairs, and specifically to talk a bit about my favorite, the Windsor.
What defines a Windsor Chair?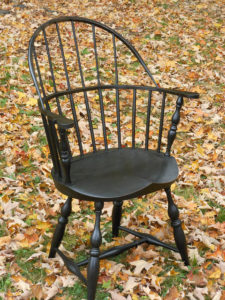 The most common characteristic of a Windsor chair is the bowed back piece and arms that are created from a single piece of wood that is curved through a process called steam-bending. A Windsor chair can also be identified by having a solid wooden seat that is typically sculpted into a saddle or shallow dish.  The back of the chair is created from multiple thin spindles that are pushed into holes drilled into the solid seat. The legs are straight, but spread slightly outwards.  There are many varieties of the Windsor chair, including the high-back, low-back, fan-back and bow-back chairs. The Windsor style can also be seen in a variety of formats, including armchairs, settees, rockers and side chairs.
Where did the Windsor Chair originate?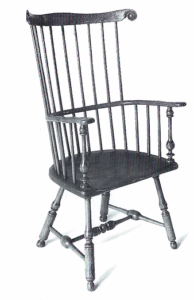 The first Windsor chairs are thought to have been designed in England during the early 1700's, where the comb-backed Windsor style chair was found to grace the lawns of country estates.  This was the time when steam-bending was being used by the furniture makers, and the  essential Windsor trait, the "bow", was integrated into the design. By the late 1700's, the furniture makers in Philadelphia had began to create their own Windsor chairs.  The American design used slimmer bent pieces, legs set further in from the edge and a slightly thicker seat.
As a maker of Windsor chairs, here are a few long lost tips and advice from a gentleman everyone may know as Wallace Nutting (from his book entitled: "A Windsor handbook : comprising illustrations & descriptions of Windsor furniture of all periods, including side chairs, arm chairs, comb- backs, writing-arm Windsors, babies' high backs, babies' low chairs, child's chairs, also settees, love seats, stools & tables")
Windsor's have been little studied and even the dealers may honestly recommend as good what is not so. But it is noticeable that no good arm chair remains long on sale if the price is at all reasonable. One should look very carefully to learn if the piece is too low, or if the feet are pieced. Also whether the arm, especially in the one -piece-bow-and-arm, is not split or mended. Every spindle should be tested top to bottom. Beware of new paint. It covers something that is more than likely detracting the value. See if the stretchers agree in style and are not split or lose. A haggled chair might have value. Some dealers, especially those remote from centers, are not cognizant of good points and will sell at low prices, but it is hardly safe to presume on the ignorance of the dealer. Never the less a true handmade Windsor today by no means should reflect any inquiries due to poor workmanship.