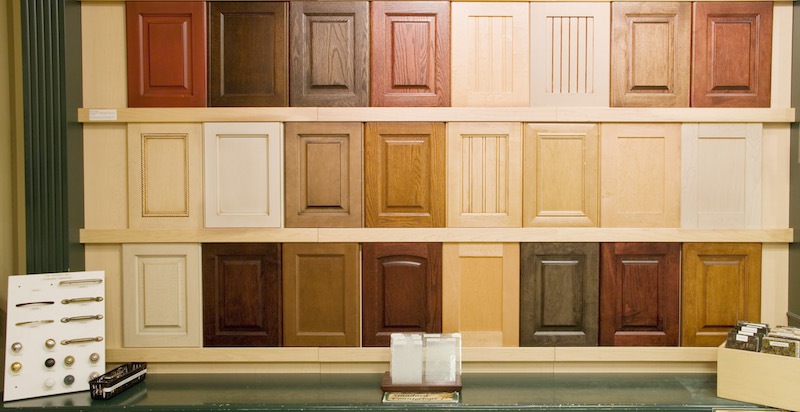 Selecting Cabinetry: Finish Materials
In today's marketplace there are many finish options to choose from when selecting cabinetry for your home.  Although many of Aston Black's customers choose natural wood, there are other options available.
Natural Wood Cabinetry
Cabinetry is available in a wide variety of beautiful hardwoods.  Wood cabinetry provides warmth in a space that is often filled with stone, stainless steel and glass.  You can choose from a wood with minimal variation to one with knots and natural grain.  In addition to the characteristics available in the natural wood, you can choose to have your cabinetry distressed from a simple sanding of the edges to cracks and simulated bird pecks.
Wood varieties
Maple – Hard maple is generally straight grained but can sometimes show curly or wavy figure. The fine, uniform texture of maple is more commonly finished in a natural or light colored stain.
Cherry – Cherry is a medium density wood with a fine, straight grain. Cherry's color varies from a rich red to a reddish-brown, and the color will darken considerably with age and exposure to light. 
Hickory – Hickory has a unique color variation that when finished in a natural stain will often be used for more a more rustic feel.
Red Oak – Red Oak is most often straight grained and open pored. Red Oak's structure allows stains to penetrate into the pores making the graining more prevalent especially on darker stains.
Quarter Sawn White Oak – Often associated with the Arts & Crafts movement, quarter sawn oak is cut at a 90 degree angle to the growth rings and displays a unique vertical grain.
Walnut – This is the only dark North American wood. It is usually only finished with a natural stain.
Specialty wood varieties-  Birdseye maple, Zebra wood, Mahogany
Laminate cabinetry
Laminate cabinets are made with a thin piece of material bonded to the outside surface of the cabinet.  The cabinet is usually constructed with an inexpensive material, and the more desirable looking laminate is then attached with an adhesive.  Laminate is typically less expensive than hard wood cabinets.  It can also be more durable in kitchens and bathrooms – holding up to heavy use without warping or fading.
Varieties of Laminate Cabinets:
Veneered wood – A thin veneer of wood is applied to a substrate. This option is limited to a simple slab door.  There are many options of exotic woods when you look at a veneered door.
Rigid thermofoil (RTF) – A process where a thin film of PVC is bonded to a substrate. This finish provides an easy clean up surface, but does not have the same flexibility for a touch up if it gets nicked or scratched.
3D laminate – Similar to a Rigid Thermofoil door, where a film is bonded to a substrate, but the film has dimension to it, often simulating a wood grain.
When picking kitchen or bathroom cabinets, working with the designers at Aston Black will help you in making the right choice to fit your budget and design.